A connected technology for desaturation monitoring
Professional divers and hyperbaric workers
Control the performance of your decompression
procedures through a standardized service.
Scientists and training centres
Benefit from a cutting-edge technology adapted
to your needs and decompression studies.
a pioneering company for diver safety
Located in the heart of the Technopôle de le Mer, on the site of the Pôle de Compétitivité Mer Méditerranée in Ollioules, Azoth Systems is an engineering and service company specializing in hyperbaric exposure safety which has developed the O'Dive connected technology – entirely produced in France, in the PACA region.
The founders of Azoth Systems come from professional and military diving, the space industry and healthcare (hyperbaric medicine, medical imaging, medical devices).
Based on quality monitoring using O'Dive PRO connected technology and hundreds of thousands of dives analyzed, Azoth Systems offers professionals a connected service to control, monitor and improve the performance of decompression procedures.
Recognized industrial players (Oil & Gas, defense, hyperbaric companies) trust Azoth Systems to both ensure the quality of their decompression procedures and improve the safety of operators with regard to the risk of decompression sickness.
A connected service to control the performance of decompression procedures
A single decompression procedure alone cannot take into account all the diversity of divers' missions and conditions of intervention.
Based on this observation, confirmed by an accidentology study of hundreds of thousands of dives, Azoth Systems has developed the O'Dive PRO standard.
This service is based on regular monitoring of microbubble flows in the diver's venous flow after the dive using the O'Dive PRO sensor.
The result of collective measurements serves as an indicator by comparison with the standard values.
A periodic report is issued to inform the company of its situation and invite it to adapt its practice if necessary.
An industry-oriented standard
– Quality monitoring ensures divers that the procedures used are correctly adapted to their missions.
– Field measurements are carried out autonomously by the divers and in compliance with RGPD. Their frequency is limited to the right need and to the only table points that require it.
– Changes in procedures are proposed according to a fair balance so as not to impact the ability to carry out the missions.
Adopt the O'Dive Pro standard for your company
They use the O'Dive PRO standard
Desaturation monitoring for scientific studies and training purposes
O'Dive Vision technology allows live desaturation monitoring using a compact and robust Doppler sensor. Therefore, it is a relevant educational tool for the training of professional divers.

Evolution of the O'Dive bubble sensor
During measurements, microbubbles are visible and audible. The signals are then stored on a dedicated server and accessible for further analysis.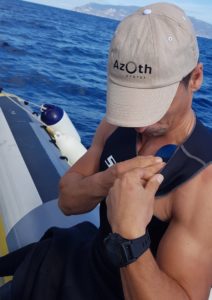 – 500 m Pro sensor designed for hyperbaric use
– Digital tablet with tailor-made O'Dive Pro app
– Hi-Fi headphones, acoustic gel and charging accessories
– Diving computer in profile recorder mode (optional)
– Visualization of the blood flow spectrogram in high definition
– Real time listening of the subclavian vein's bubbles signals
– Access to a dedicated server with the raw data
Design your personalized O'Dive Vision package
Overview of our recent activities
Mission Under The Pole III: desaturation monitoring of the Capsule program's diving procedures
Development of diving procedures to a depth of 500 m for industry and sea rescue purposes
Control of table corrections by monitoring during an intervention on a dam at altitude
Monitoring of GOMBESSA V expedition decompression procedures
Instrumentation for the monitoring of desaturation of hypobaric interveners
Let's define together the offer adapted to your needs